General
Q. Do you take my insurance?
A. OCPT covers many insurance providers including Medicare, Aetna, TriCare, Healthnet, BlueShield, and many others. Call us today to verify your insurance.
Q. How much will it cost?
A. It can depend on your insurance company and plan that you have, but we do offer a complimentary verification to find out what your OOP costs may be, if anything!
Q. Do I need a perscription or not?
A. No, unless your health insurance plan requires it. Call to verify if this applies to your insurance plan.
Your first visit
Q. What should I wear?
A. Come dressed comfortably in clothing that can expose the area you want to be seen for. We have restrooms for you to change and storage for a gym bag if you bring your change of clothes.
Q. Is there anything I need to bring?
A. Please (if applicable) bring in your insurance IDs, prescriptions, and/or medical documents.
Q. How long is the appointment?
A. We do not have a set time for treatments. In general can be anywhere from 40 minutes to 1 hour.
Our Physical Therapists
Q. How long is the appointment?
A. We do not have a set time for treatments. In general can be anywhere from 40 minutes to 1 hour.
Q. Will I be seeing the same therapist each visit?
A. This is something that we strive to accomplish. We offer very flexible hours. 99% of the time you will be with your primary Doctor of Physical Therapy.
Q. Will I be working with aides?
A. No, you work 1-on-1 with your therapist!
More
Q. How can Physical Therapy help me?
A. Physical therapy is the best option for you. Our skilled Doctors of Physical Therapy will thoroughly listen to your history of pain and create a program that best reaches your goals. If you are post operative then physical therapy is a continuation from your surgery. Our physical therapist are in communication with your surgeon to maximize protection of your surgery. Also they communicate the goals that should be reached based on your surgical procedure. If you found us on the internet through a search then most definitely you have found the best solution to alleviating your pains. Physical therapy has been proven to help with not only musculosketal injuries but also vestibular/balance disorders, incontinence, stroke/Parkinson's Disease, and chronic pain.
Q. Will Physical Therapy be painful?
A. Some treatment techniques may be uncomfortable because the body is not optimally functioning and to restore an optimal state we must break down tissue or change movement patterns. These techniques can causes different levels of discomfort to different patients but should never be severe lasting pain.
Q. Will you work with my primary care provider?
A. Yes! We'll keep them updated throughout the process of your care.
Related Posts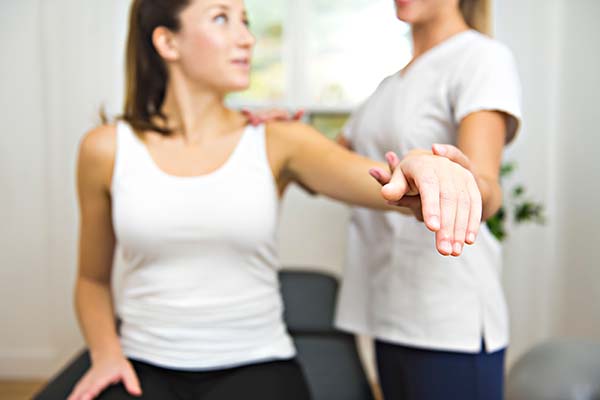 Your shoulder rotator cuff is made of four muscles and the corresponding tendons. It stabilizes the shoulder joint. Research shows that it is common for this muscle group to tear because of repetitive use or trauma. Physical therapy can help relieve stiffness and pain from this type of injury. Here are the ways physical therapy…